Local electrical construction business praised for high safety standards and worker satisfaction
GREENSBORO, NC (May 26, 2022): Cooper Electrical Construction Company, a woman-owned electrical construction business with offices in Greensboro and Morrisville, North Carolina, is pleased to announce that it has been awarded a "Best Places to Work" Award by the Triad Business Journal (TBJ).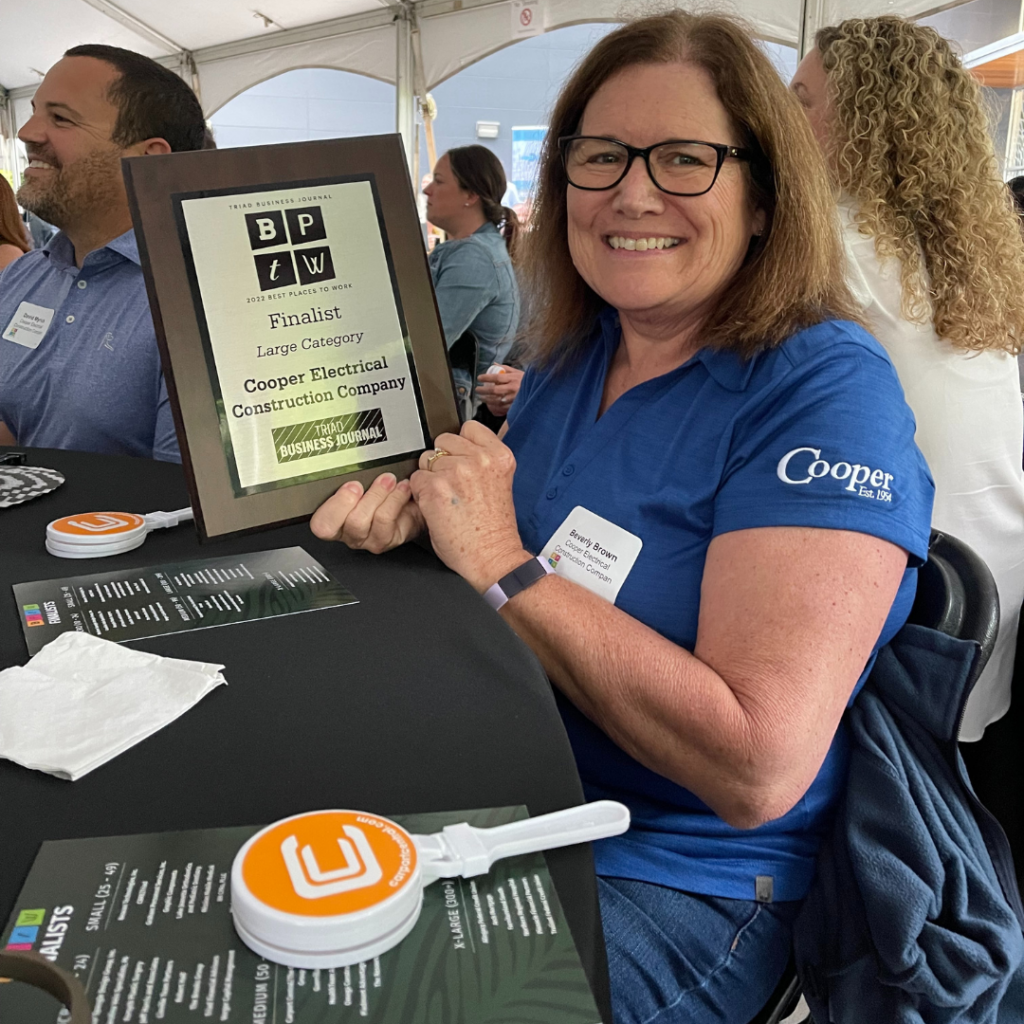 The 38 finalists for the prestigious annual award were announced on May 10, 2022. Cooper was nominated in the Large Company category, which included companies with between 100 and 299 employees. Cooper's win was announced at an awards ceremony hosted by the Triad Business Journal on May 25, 2022.
Cooper, which specializes in bio-pharmaceutical, chemical, water and wastewater, power generation, and industrial manufacturing industries, is experiencing rapid growth and now employs more than 400 employees.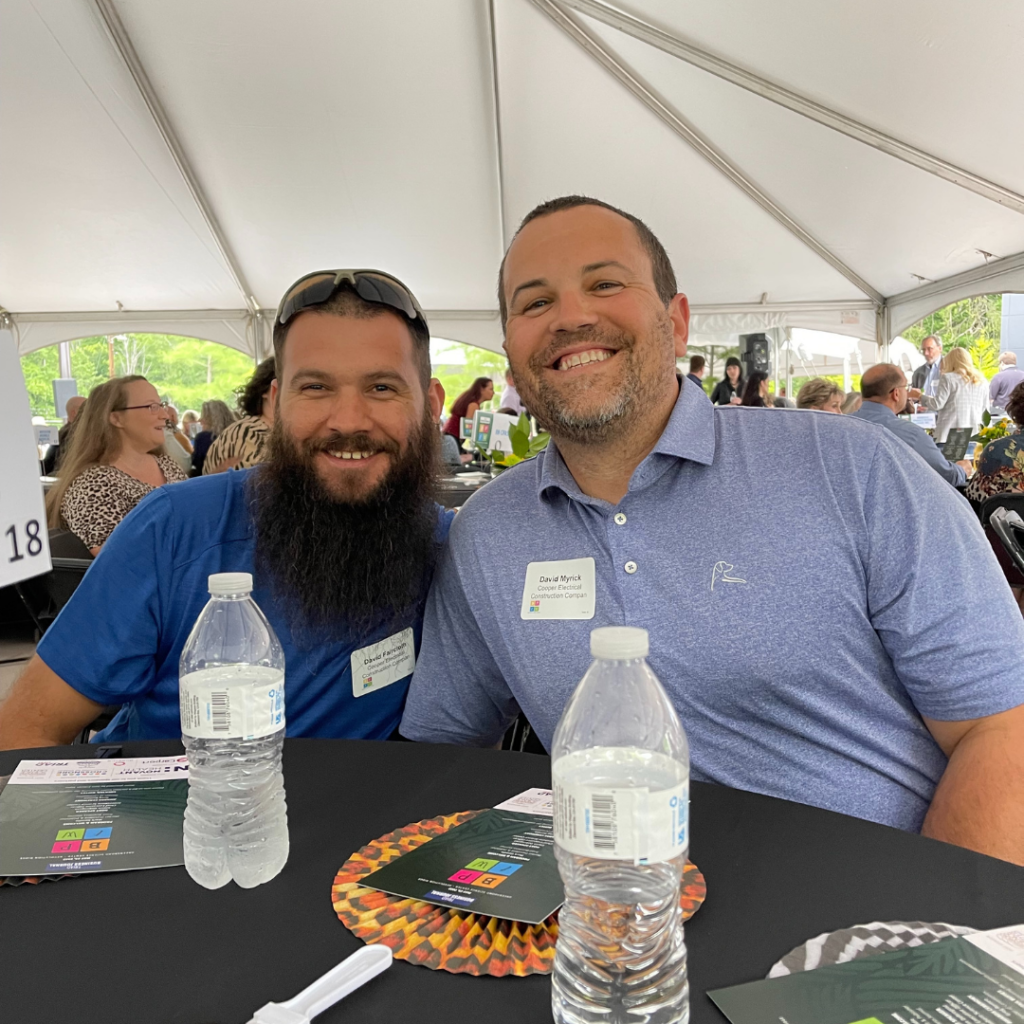 "The Best Places to Work Award is a kind of validation," says Gwen Grant, Senior Director of People Engagement at Cooper Electrical. "Just the nomination alone speaks to all our efforts that we've made over the years to make sure our employees come first. It demonstrates how much we value our employees."
The Best Places to Work winners were determined based entirely on employee feedback. Each nominee had to survey 100 percent of its employees using a comprehensive set of criteria, which was then used by the TBJ to establish the winners.
"Winning this award solidifies something that we do day-in-and-day-out as an executive team," states David Myrick, Senior Director of Field Strategy and EHS (Environmental Health and Safety). "We put a lot of effort and a lot of thought into how we can make work more enjoyable for our employees, who are with us ten hours a day five days a week–sometimes even more, since being in the construction industry, our hours can extend into the weekends, too."
The word that Cooper's employees used most often to describe their company's culture, when surveyed by the Best Places to Work 2022 Employee Opinion Survey, was "safe," followed closely by "friendly." For Myrick, who is in charge of all of the field operations and also heads up Cooper's safety program, this was gratifying—and also, not surprising. Myrick believes in the intrinsic connection between employee happiness and employee safety.
"Safety and quality, they come with the happiness," explains Myrick. "If you're happy; if you wake up every morning and you are eager to go to your place of employment, then it will be easy to follow the safety rules. It's going to be really easy to do things right. And in turn, quality and safety are two of the most important things to our clients, as well. Our clients want their projects done on time and they don't want to risk anybody's life in the process of building a building." By setting high standards for both quality of life and quality of work, Myrick believes everybody—from the C-level executives to the field craft to the clients—wins.
Grant echoes this philosophy, which is proving to be a winning one for Cooper. "The culture at Cooper, I have to say, it's a very inclusive culture. We just value our employees. It's very family-oriented. This is something that is from the top all the way through the front-line employees. Our culture is really about respect. It's about respecting each other."
Company executives celebrated the Best Places to Work Award at the official awards ceremony in May, and then took the celebration company-wide with tee shirts, celebrations on-site, and a family day at Charlotte, NC amusement park Carowinds.
"Winning certainly felt good," says Myrick. "It didn't surprise me; we have a great team and buy in from everyone on ways we can we improve the lives of our employees." In construction, there's a basic safety point-of-view, explains Myrick, that encourages employers to make sure that every employee goes home the way they came in. But, he says, Cooper aims higher.
"At Cooper, we don't want to just send employees home the same way they came in. As a company–as an industry–we have way too many resources at our fingertips to send employees home just the way they came. We need to send them home better."
Both Myrick and Grant cite employee programs such as ESL learning, fitness incentives, pastoral support, and various opportunities for training and advancement, as among the many benefits available to Cooper's employees.
This is the first time Cooper Electrical Construction Company has won the TBJ's Best Places to Work award.